SEO and Online Marketing
I've seen far too many people latch on to the idea of Search Engine Optimisation and throw everything else to the wind much to the detriment of their business (or social life!)
SEO is part of Online Marketing which includes:
Using Social Media - like Facebook and Twitter.
Affiliate Marketing - paying others a commission or fee to market your products or services.
Search Engine Marketing - paying per click for adverts by the search result of major search engines.
PPC and PPI - Pay Per Click or Pay Per Impression to advertise on websites, apps, etc.
Online Presence - keeping profiles on the major forums and Q&A sites for your field, helping out and getting business in return as your expertise is recognised.
Directory Listings - if you're a local business are you in the directories like Yellow Pages where people actually go to find you?
Market Place leverage - using platforms like Amazon, Etsy, Ebay, etc. rather than your own website to sell a product or service.
Partnership building - work with other websites to deliver each other mutually beneficial traffic.
Email Marketing - keep people who sign up in touch so they want to come back for more.
Content Marketing - use ebooks, guest blogging, etc. to raise your profile as an expert and bring you the right clients.
... and Online Martketing is just a part of Marketing in general!
Consider this graph from Forrester.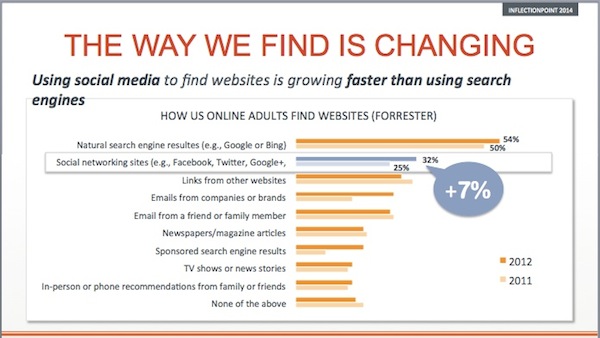 It's dated but it shows how people beat a path to a website. Search engines only account for 50% of this. If the question is how do they find your product or service when you are a physical business that number drops further.
(I've written more about this graph on my blog post Does Google really rule the roost when it comes to search?).
Right now you might be thinking "Eek! I can't do all of those things or afford to pay someone else to do them!". You don't need to. I see people run perfectly successful businesses from Amazon and/or Ebay or get all the customers they need just by being on all the respected online and offline directories.
But whatever you do, don't put all your eggs in one basket.
Choose at least two forms of online marketing that will work for you. SEO
might
be one of them.
If you still think SEO is the right way forward for you its time to understand exactly How search engines rank pages.