Your 'title' tag contents is one of the most important pieces of your website's code so its vital you spend time getting it right.
What is the title tag?
Its often confused with the main visible title of a page but in fact it is to be found somewhere completely different. As an Internet user you will only be vaguely aware of it because:
Its barely visible in the open tab of your browser and you're probably not seeing all of it
It only gets used by you if you bookmark the page in your favourites or share it on social media
Its been a long time since I've seen one that doesn't but just in case:
Find a blank space on the page and right hand click.
From the small popup menu that appears left hand click on 'View Page Source'.
Eeeeek!? Don't be phased. Hold down Ctrl and F at the same time and look for a small search box that will appear in the bottom left or top right
Type in '<title
If you fail to find a title tag and your using a theme on a platform like WordPress its either a very ancient theme or a very bad one - change it. For bespoke created websites you'll need techie help to get them installed.
Your title tag should:
be different for

every

page of your website
contain at least one, potentially two of the keywords you are trying to rank the page for
be a close or exact match to the text in the page element of your url (see How to SEO your URL)
be a close or exact match to the contents of the 'h1' tag which we'll come to shortly.
In other words the url, title tag and 'h1' tag should all be reinforcing each other and sending a clear message to search engines on what your page is about. They'll want more confirmation via other content which we'll cover later but this trio should be seen as key.
How search engines use the 'title' tag
Lets take an example of a flower shop based in Happy Town. They have a website but didn't bother to sort out their title tags so the contents for their home page was simply "Home Page". It wasn't important because they were number one in the search for "Flowers Happy Town" simply because no one else had a website. When someone carried out a search for "flowers happy town" this is what they saw in the search results.
Home Page
Flowers for all occassions
Now there were several other flower shops and two more got a website so then search results looked like this
Home Page
Flowers for all occassions

Fresh Flowers for all of Happy Town, daily deliveries
Live in Happy Town and need fresh flowers? Call us or visit our shop to see our great selection. Daily deliveries within 10 miles.

Happy Town Flowers - flowers delivered to your door 7 days a week
Buy flowers online and get them delivered to any address in Happy Town 7 days a week. Widest selection of flowers on the market


The blue underlined text reflects the contents of the title tag - which may or may not be in the visible content itself (although it should be!).
Well it's pretty clear where people are going to click, and which website they are going to ignore, even though our original page is still number one. Search engines are going to pick up on that negative user behaviour, and the website that was at number one will be moved down the rankings.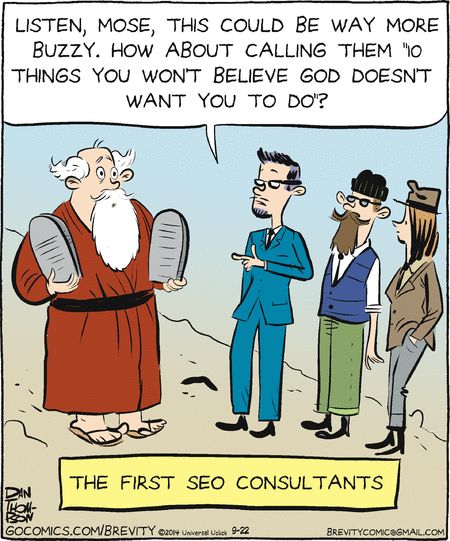 Now I've been a bit harsh on our Happy Town flower shop that never sorted out their title tags. Some search engines like Google will change the title tag text in the search results if they think its more relevant to the search - otherwise they look like a bit of a crap search engine and they don't want that.
If you see the blue text in the search results does not match your title tag don't start grumbling at Google, start thinking how you could improve your title tag so it is more relevant to the page's content.